This is the first, major humanitarian activity done by our new FEMERAID International Brazil Unit in the state of Rio Grande do Sul, which was headed by the renowned medical doctors: Dr. Thiago Santos and Dr. Gladys Jung.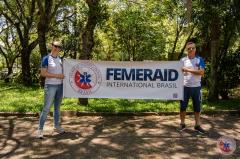 The current large humanitarian action was destined to 1.200 children, who are considered to be very vulnerable both economically and socially, living in 5 different locations and were selected jointly by FEMERAID Intl. Brazil Unit and the local authorities through the Tutelary Council.

FEMERAID International Brazil Unit collaborated on this activity with the Federal Road Police and the Secretariat for Human Rights, which provided the FEMERAID Unit with the logistics and transportation.

In addition, we are pleased to announce that FEMERAID International Brazil is already preparing a new humanitarian action aimed at providing school books and other educational equipment for these children, however the main activity of this united work, also dedicated to education, is being finalised.

Our heartfelt congratulations on this successful humanitarian action to Dr. Thiago Santos – Director of FEMERAID International Brasil / RS, as well as to his team of dedicated and committed people.

3rd January 2022