The Air Rescue Team of FEMERAID International informs all our members, Knights and Dames of the Sovereign Order of Saint John of Jerusalem, Knights of Malta, Federation of the Autonomous Priories (KMFAP) about the followings:

It is unlikely that we will ever achieve zero cases of COVID-19 worldwide. However, if the numbers drop dramatically we can revert to our pre-COVID-19 routines. In case we vaccinate more people during this summer, it will help reduce the chances of another wave in Europe and North America this coming winter.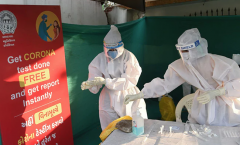 The WHO has reported more cases of COVID-19 in the last 2 weeks than seen in the first 6 months of the pandemic. Brazil and India alone account for more than half of these new cases. We live in an interconnected and interlinked world; this chaos and catastrophe are right next door. We all have to work together to prevent this from reaching our doors. Take up your vaccine and keep all hygiene measures in place to prevent the spread of COVID-19. Fewer cases = less variants of the virus – which means lower risk of more waves in the future.
Keep safe and healthy.

10th May 2021